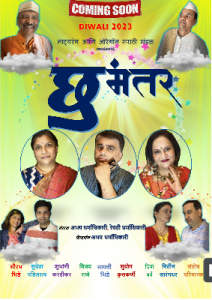 MEMBER TICKETS: Click Here!
NON-MEMBER TICKETS: Click Here!
TICKET SALES ARE NOW CLOSED
Program details: 
Date:19th November 2023 (Sunday)
Doors open: 
3:30pm
Dhamakedar Ekankika "ChhooMantar" 
Natyarang PDX presents a one-act fun-filled Marathi comedy play, "ChhooMantar"
Time: 4:30pm to 5:30pm
Break 
Tea & Snacks will be offered
Time: 5:30pm to 6:00pm
Musical Performance "Abhangwaani"
पोर्टलंडचे नेहेमीचे यशस्वी कलाकार यावेळी सादर करत आहेत अभंगांचा थोडा 'हटके' कार्यक्रम ! यांत 'हटके' काय आहे ते प्रत्यक्ष येऊन ऐकाच!
Time: 6:00pm to 7:00pm
Faral
Boxed Diwali Faral will be distributed after both the events are concluded on your way out, compliments from OMM & Potpooja.
Venue details:
Deb Fennel Auditorium (Located in Tigard High School ) 
9000 SW Durham Rd, Tigard, OR 97224
Tickets will be gone before you know it!!
We will be happy to assist you. We look forward to celebrating Diwali together as a community, and we can't wait to see you at the event.
ChhooMantar Teasers: